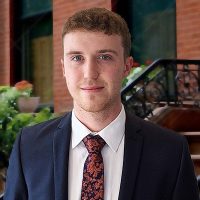 New York Office
255 West 36th Street
2nd Floor
New York, NY 10018
Tel: 212-695-3333
Fax: 212-695-3343
Edward Forester
Surety Consultant & Project Engineer
Edward Forester is an experienced project engineer with the ability to take on a broad range of construction consulting assignments. Since joining Beacon's team in 2019, Edward has assisted on a number of important construction consulting and surety consulting assignments, including one very high-profile project involving some of the largest bridge renovation projects in North America.
A native of Belfast, Northern Ireland, Edward worked for Beacon in its NYC office until relocating from New York to Galway, Ireland in late 2020. He now lives next to Galway Bay in the heart of the city's historic downtown. From his base in Galway, Edward is playing an active role on Beacon's Europe-based consulting team.
Edward holds an M.Eng. degree in in Mechanical Engineering from Queen's University Belfast. Prior to joining Beacon, Edward's experience included working for Ulster Bank in Northern Ireland and also for the famed luxury car manufacturer Aston Martin Lagonda PLC (Gaydon, UK).
Edward's is actively involved in all of the following construction consulting areas:
Contractor Claim Analysis
Change Order Review & Negotiation
Construction Cost Analysis
Preparation of Bid Packages
Review & Analysis of Construction-Project-Related Documents
Cost-to-Complete Analyses
Subcontractor Default Insurance Consulting
Among his many hobbies and interests, Edward enjoys playing Gaelic Football, a sport popular in Ireland. He has played for Gaelic Football clubs in County Antrim, Northern Ireland and in New York City (for the Manhattan Gaels). He also enjoys traveling, skiing, surfing, and drawing. During the first Covid-19 lockdown, Edward made good use of his free time by developing his skills as an artist and creating an online portfolio of his work. Edward says he enjoys creating realistic pen and ink drawings of scenic vistas and wildlife.