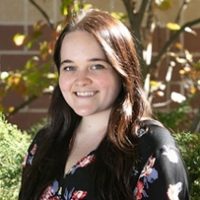 Massachusetts Office
407R Mystic Avenue
Suite 32C
Medford, MA 02155

Tel: 781-395-1650
Fax: 781-395-1651
Virginia Adams
Surety Consultant & Project Engineer
Virginia Adams joined Beacon's team in September of 2019 as a Project Engineer working in our Medford, MA office. Virginia is a graduate of Worcester Polytechnic Institute (WPI) where she earned a Bachelor of Science in Environmental Engineering.
At Beacon, Virginia's diligence and analytical skills make her a valuable team member working on a wide variety of construction consulting assignments, including:
Assisting on Surety-related construction consulting projects

Cost-to-complete assessments
Participation in the day to day operations of construction completion projects
Construction project bid review & analysis
Assisting with construction defects assignments
Prior to joining Beacon, Virginia gained valuable experience as a Construction Management Intern for the City of Framingham, MA Department of Public Works. Some of the tasks she was involved with in that position included:
Assisting with construction management tasks associated with water main and water tank replacement projects.
Reviewing specifications and proposed building plans.
Observing / monitoring construction progress.
Participating in construction update meetings.
Performing culvert inspections and generating inspection reports.
Performing infiltration and inflow data analysis using GIS and Excel.
EDUCATION:
Worcester Polytechnic Institute (WPI), Bachelor of Science in Environmental Engineering