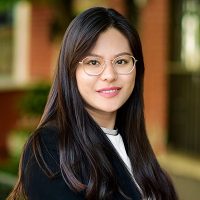 New York Office
255 West 36th Street
2nd Floor
New York, NY 10018
Tel: 212-695-3333
Fax: 212-695-3343
Myat Cyn
Surety Consultant & Assistant Project Manager
Myat Cyn joined Beacon's team in early 2018 as a Project Engineer working in our New York City office. Since that time, Myat has been promoted to Assistant Project Manager. Myat is a graduate of New York Institute of Technology where she earned a Bachelor of Science in Mechanical Engineering. Prior to joing Beacon, Myat's background included time working in the construction field assisting with project management, MEP inspections, expediting, and ARCS fire alarm systems.
At Beacon, Myat's attention to detail, diligence and analytical skills make her a valuable team member working on a wide variety of construction consulting assignments, including:
Assisting on Surety-related construction consulting projects
Consulting for financial institutions on construction loan monitoring
Construction project bid review & analysis
Assisting with construction defects assignments
Myat is as comfortable reviewing and monitoring progress at a construction site as she is pouring over site plans and project documents to help Beacon's clients manage projects efficiently and responsibly.
Myat moved to the New York City area to attend college several years ago. Since then, she has taken full advantage of NYC's many cultural and entertainment opportunities. Myat is now the go-to staff member in Beacon's NYC office to ask about fun and interesting things to see and do in the City.
EDUCATION:
New York Institute of Technology, B.S. Mechanical Engineering