Las Vegas Construction Defects Assessment
Location: Las Vegas, NV
Project Type: Residential
Services: Construction Defects Assessment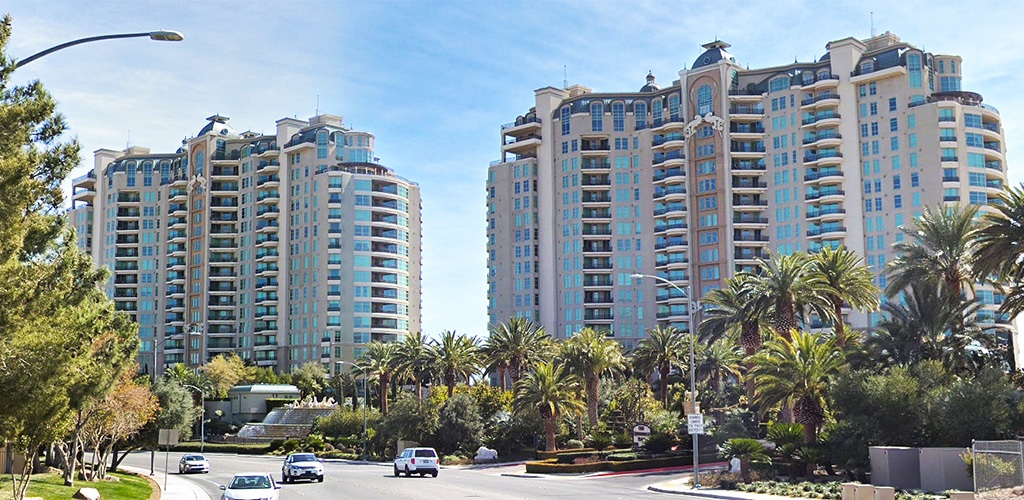 Beacon was hired to provide expert consulting services related to an ongoing construction-related dispute concerning a luxury residential high-rise condominium complex. The complex, consisting of two 18-story towers completed in 2007, included 219 separate luxury apartments ranging in size from 2100 sf to 14,000 sf. In these luxury buildings, individual units sell for upwards of $1.5 million.
Beacon's Role:
Beacon consulting services on the project included:
Performing an on-site review / evaluation of exterior caulking work done on the two towers
Review / analyze reports done by other consultants hired by the Home Owners Associates and the General Contractor related to alleged defects in the building's caulking
Write an expert report / evaluation summarizing Beacon's findings
Caulk helps to create an airtight and watertight seal in a structure's cracks and crevices. Properly installed caulking is a critical part of a building's "envelope" -- helping to ensure that a structure is weatherproof. Caulking plays an important role in a building's structural integrity by helping to prevent moisture intrusion. When caulking is not installed properly (or completely), water can seep behind brick, stone, and other building materials leading to interior property damage, as well as damage to the structure itself. Caulking is also important for a building's energy efficiency and for draft prevention.
In the area of Construction Defects, Beacon Consulting Group, Inc. has extensive experience evaluating all aspects of a building's envelope and related structures, including:
Roofing systems
Foundations (& moisture removal systems)
Exterior & interior walls and doorsWindow systems ("traditional" & curtain walls)
Thermal and moisture barriers
Caulking / sealants
Masonry / pointing
Insulation & soundproofing
Balconies & other structures
Patios, walkways, & stairways