Beacon Providing Construction Consulting Services for Multiple New Commercial and Residential High-Rise Projects in Manhattan
Beacon's NYC team is providing construction consulting services for a number of high-profile construction projects in New York City. For more than a decade, Beacon has been providing pre-construction consulting, construction-loan-monitoring and related services for banks and other entities involved in the financing of new construction projects throughout the U.S. With the construction boom in New York City in recent years, Beacon has been actively involved in loan monitoring for a number of high-rise residential, commercial and hotel building projects.
Two hotel projects which Beacon has been providing loan monitoring services for in recent months are located in midtown Manhattan. Both hotels are being developed by The Pestana Hotel Group, based in Portugal. The international company owns more than 91 hotels globally, representing more than 10,700 rooms.
The two new hotels (still under construction as of this writing) are located just a few blocks apart from eachother. The larger of the two hotels is located on West 39th street, a short distance from the Javits Convention Center, Hudson Yards, The High Line, Times Square, Broadway theaters and other popular tourist attractions. This hotel is part of Petsana's "CR7 Lifestyle Hotels" brand—a joint venture between Pestana and Portugese soccer superstar Cristiano Ronaldo.
Once opened, the 25-story, 78,000-sf hotel will feature 177 guestrooms, plus a breakfast area, fitness center, and multiple meeting rooms. In 2015, Beacon was retained by a leading international bank (involved in the project's financing) to conduct a Preliminary Project Pre-construction Review (also referred to as a "Document & Cost Review"). Since that time, Beacon has continued to provide construction loan monitoring services on behalf of the bank.
The building was topped out during the summer of 2018. Interior contstruction has been ongoing in recent months, including interior carpentry work, conference room buildout, and work on various building systems (elevator, generator, HVAC, etc). According to the project's developer, the project should be completed (and ready for occupancy) by early next year.
Across town on East 39th Street, Beacon is providing loan monitoring on another nearly completed Pestana Hotel project. This hotel occupies a smaller footprint compared to the West 39th Street hotel. Construction on this 27-story, 96-room, 39,964-sf property is expected to be finished up this summer. Beacon Consulting Group helps the bank to keep a close eye on the progress of the contruction process, providing regular "draw-down reports" to ensure that the requested construction loan draw-down payments are in line with progress on the project.
As of the time of this E-news (late April / early May) progress has been continuing on the front exterior façade of the building (such as window installation and brick work). On the interior, lots of work is ongoing related to the buildout of the hotels' rooms. The focus in the coming months will continue to be applying all the finishes on the interior rooms. According to the developer, construction is expected to be completed on the East 39th project during the summer of 2019.
More images of these projects are below.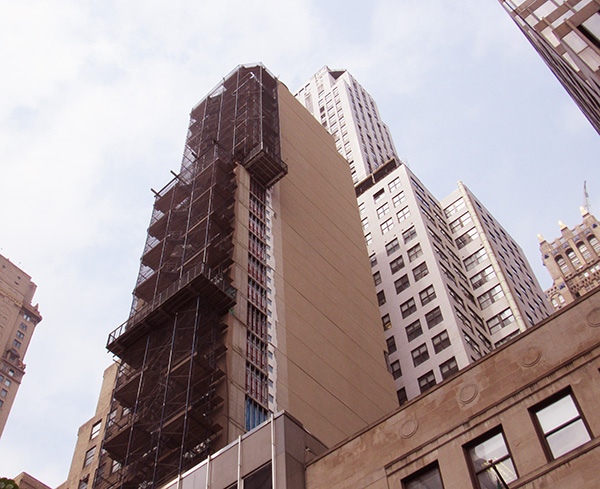 A view of the 96-room Pestana Hotel under construction on East 39th street.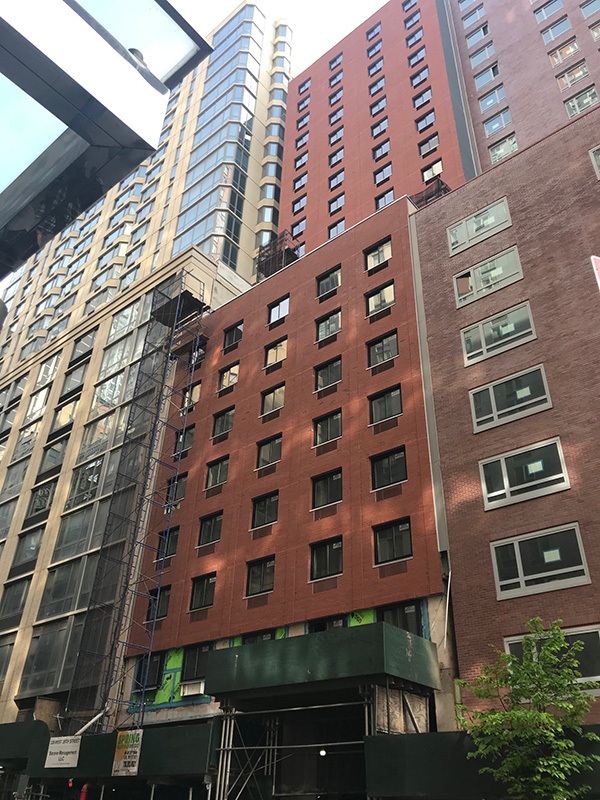 The 177-room Pestana CR7 Lifestyle Hotel under construction on West 39th Street in New York City.