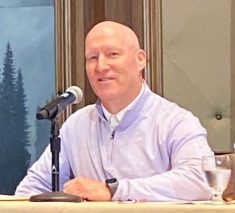 As I write this message, I am taking a week off to visit Ireland. My wife Laura and I are visiting with my extended family here, which is always a pleasure. Ireland is such a unique and fun country. If you have never visited, I highly recommend it. From its beautiful countryside, scenic coastline, quaint historic towns, dynamic cities, music, and culture, Ireland really has something for everyone. Most of all, Ireland's people are warm, friendly, and very funny.
One of the highlights of our trip was getting a tour of the historic Leinster House in Dublin, where the Irish government meets, including their Dáil Éireann (House of Representatives) and Seanad Éireann (Senate). Irish Senator Mark Daly was a fantastic tour guide (see full article for photos). Mark is currently head of Ireland's Senate (and is a close friend of my cousin Tomas).
Thanks in part to its well-educated, tech-savvy workforce, Ireland has also become one of the leading business capitals of Europe. Major companies such as Facebook, Google, Microsoft, Apple, AirBNB, and PayPal all selected Ireland as the location for their European headquarters. Of course, let's not forget Beacon Consulting Group. We have had a presence here through our strategic partners for more than one year now...