Modular Construction On The Rise In U.S. and Abroad: Here's Why
Modular construction is growing in popularity in the U.S. and internationally. Modular construction is a method of construction which involves pre-building standardized sub-structures (or "modules") of a structure in an off-site factory, then delivering them for on-site assembly. According to one recent article, more than a dozen modular projects have been either built or launched in the New York City area over the last few years. According to one industry group (the Modular Building Institute), the U.S. modular construction business has doubled in size to $8 billion in the past five years.
Three projects in New York City (see below) illustrate some of the advances and changes which are currently happening in the modular construction industry. These three projects are a far cry from the bland, rectangular suburban homes which come to mind when many people think about modular construction. These are large buildings with well-planned living spaces and high-end amenities:
Carmel Place, 55-unit "micro apartment" building (Manhattan - Opened 2016)
Pod Hotel, 249-room hotel (Brooklyn, NY - Opened 2017)
citizenM Bowery Hotel, 300-room, 19-story hotel (Manhattan - Opened 2018)
Another notable project (not covered in this article) is the planned 168-room, 26-story AC Hotel New York NoMad. According to Marriott Hotels (the owner), the hotel is scheduled for completion in 2020. At 360-feet tall, this tower will be the world's tallest modular hotel and will be located in Manhattan.
Some of the factors driving modular construction include:
Cost Savings: Although it's still evolving, the modular construction industry has the potential for great cost savings once economies of scale are reached.
Less time spent with on-site construction: Because much of the work is done in a factory where the modules are constructed under controlled conditions, on-site delays (such as weather-related delays or material delivery delays) are kept to a minimum, as is noise and traffic disruption in the neighborhood (far fewer deliveries of materials).
The need for affordable housing and hotels in busy urban areas where real estate prices are becoming exorbitant as the population grows.
For residential projects, there has been a growing number of young people living alone who are willing to live in smaller, more affordable spaces.
Hotel chains are seeking to build cutting-edge projects quickly and efficiently in response to market demand.
Safety can be enhanced: Greater control, repeatability and stability for in-factory construction process.
A growing number of architects are proposing modular-based projects in response to RFPs (and industry needs).
Receptive public officials are willing to try new approaches for developing more affordable housing.
Carmel Place Modular Micro Apartments. Located at 335 East 27th Street in Manhattan, Carmel Place is a 9-story residential building which is constructed of 65 separate steel-framed, stackable, and self-supporting modular structures. The modules, which look like high-tech shipping containers, were built off site in a factory in Brooklyn and delivered by truck to the location. Of the 65 individual modules, 55 are the actual "micro-apartments" which range in size from 260-360 sq. ft.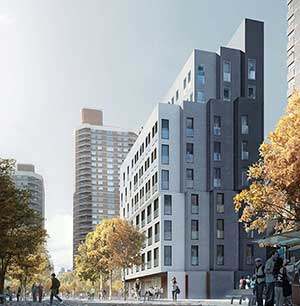 The architecture firm which designed the apartment modules created a clean, mimimalist design that maximizes the use of space while adding features which make the units feel bigger than they are. For example, each apartment has a ceiling height of 9' 8" and 8' tall sliding windows so abundant light enters the apartment, as well as "Juliet balconies." Other clever features include a fold-down kitchen table/counter, a linear storage loft and a fold-away "Murphy bed" which is out of site during daytime hours.
According to industry reports, traditional construction methods were used for the building's foundations, utilities and first-floor. Next, the modules were shipped to the job site, stacked with a crane and bolted together--a process which took only 4 weeks. On-site construction workers also built the stairs and installed the elevators and the building's brick facade. While the costs associated with this "first-time prototype" project were reported to be similar to traditional construction costs, the total construction time was reported to be a relatively fast 2-year timeline.
Williamsburg's modular Pod Hotel (The Pod Hotels) was designed by Garrison Architects (New York, NY). The 249-room hotel, which opened in 2017, is made up of steel-framed modules which were pre-built in a factory in Poland. Each module reportedly contains two 100-sq-ft guest rooms separated by a corridor. Upon installation, the rooms already had all furniture secured into place. According to industry articles, the pre-built modules were completed in 3.5 months in Poland.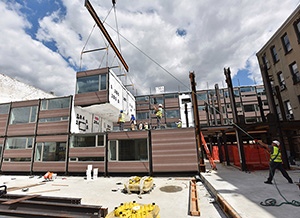 After being shipped to New York, stacking and assembly was completed in just six weeks. The exterior walkways, roofs and courtyards took approximately 16 months to complete. Similar to the Carmel Place project, the architect incorporated very large windows and other features that make the hotel's rooms feel larger than their 100-sq-foot footprints.
citizenM Bowery Hotel. The tallest modular hotel in the world (as of its completion), citizenM Bowery is a 20-story, 300-room modular building located in Manhattan. The hotel was opened in late 2018 by the Dutch hotel chain (citizenM) which hired the architecture firm Stephen B. Jacobs Group, PC to design the building in collaboration with the Dutch architectural firm Concrete. The hotel consists of 210 modules, the majority of which are double-room units (consisting of a guestroom, a corridor space, and a second guestroom) for a total of 300 rooms. The modular units reportedly measure 48 feet by 8 feet by 9 feet. The guest rooms are all 170 square feet and include features such as a built-in king-sized bed, rain showers, large windows with natural lighting, high speed Wifi and an iPad that controls the room's ambient lighting, blinds and TV.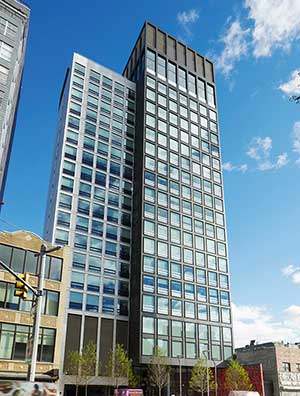 Similar to the Brooklyn Pod Hotel project, the citizenM modules were pre-built in Poland (by Polcom Modular and Aluprof S.A.). The units were shipped by sea to Red Hook Brooklyn where they were loaded on trucks for delivery to Manhattan. While most of the building is made up of the modular units, there are structural elements that span the building's height. Prior to installing the prefabricated modules, a concrete structural core was built along the site's southwest corner and a sheer wall to the north. These structural elements provide support and prevent the stacked modules from twisting.
The 4-story concrete lower section of the building includes traditional construction topped with a 3-foot slab of concrete. The hotel's mechanical systems are located in the lower section of the building. As the building process progressed, the construction crew was reportedly able to install one floor of modular units per week. Overall, on-site construction was reportedly approximately 6 months in length.
Some of the challenges and barriers being faced in the modular construction industry include:
Permitting: In at least two of the NYC modular projects, the developers had to seek work-arounds for specific permitting challenges, such as getting building inspectors to visit a modular factory in Poland to approve the factory-installed sprinkler system. In another case, NYC approved a smaller-than-standard square footage for a residential living space (compared to the normal housing code)
Limitied storage space available in some of the modular apartments being built. However, in the U.S. there are also many enthusiasts interested in simpler, more-efficient living spaces with "less stuff" and clutter.
Size of interior spaces: Because of size limitations on how large of a module can be shipped (particularly through tight city streets), there are constraints upon how large interior spaces can be made. In other parts of the world, such as Tokyo and Hong Kong, residents are more accustomed to smaller/modular living spaces. The U.S. has historically been the land of "more is better" and who doesn't like a spacious, airy, and light-filled living space? Innovative architects are finding ways to design and combine modules to achieve larger interior spaces.