NYC Construction News: Hudson Yards Public Space has Become One of the City's Hottest Tourist Attractions
Located between 10th and 12th Avenues from West 30th to West 34th Street, Hudson Yards is a private real estate development located on the West Side of New York City. It is reportedly the largest private real estate development in the United States by area. Upon completion, 13 of the 16 planned structures on the West Side of Midtown South will sit on a platform built over the West Side Yard (a storage yard for Long Island Rail Road trains). The first of Hudson Yards' two phases opened in 2019. It includes a public green space and eight buildings which include residences, a hotel, office buildings, many retail shops, and cultural institutions. The second phase, projected to be completed by 2024, will include additional residential space, an office building, and a school.
On March 15th, one of Manhattan's newest and most popular new tourist destinations opened at Hudson Yards. Knows as "The Vessel" (see photo), the structure is part giant sculpture, part viewing tower, and part public park. It was conceived by award-winning British designer Thomas Heatherwick and is now the centerpiece of Hudson Yards' public square and gardens. The Vessel is a network of interlocking staircases that visitors can climb up, and its design was reportedly inspired by ancient stepwells in India and an exterior staircase of an abandoned building in England. The $150-million structure was commissioned by Stephen Ross, the Chairman and founder of The Related Companies, the lead developer of Hudson Yards (along with Oxford Properties Group).
The Vessel has 2,500 steps and 154 flights of stairs, which is equivalent to 15 stories, and it has 80 viewing landings. Construction began in April 2017, and it opened to the public on March 15, 2019. The Vessel is free to visit, but admission tickets must be purchased in advance by using the following site link: Book Free Tickets To "The Vessel".
Hudson Yards has become a popular destination for locals and tourists for other reasons too. It is located right at the northern end of the High Line, a public park and walking trail built on a historic freight rail line elevated above the streets on Manhattan's West Side. Adjacent to The Vessel are the Hudson Yards' gardens, shops, restaurants and a hotel. Coming in 2020 is another unique attraction, "The Edge," which is a 65-foot-long triangular balcony and viewing platform located 1100 feet in the air, jutting straight out of the side of 30 Hudson Yards, a 1,296-foot-tall office tower (see Photos below).
Overall, Phase 1 of Hudson Yards development consists of the following structures and locations. It is reported that all of the Phase 1 buildings will receive a LEED Gold designation.
10 Hudson Yards - The 52-story, 895-foot (273 m) commercial building designed by Kohn Pederson Fox. One of the tallest buildings in New York City.
15 Hudson Yards - 70-story tower topped out in February 2018 and opened in early 2019, 15 Hudson Yards include 285 residential units.
The Shed - Opened on April 5, 2019, The Shed is located at the base of 15 Hudson Yards. It is a flexible structure designed for providing cultural programming such as concerts, live theater and large-scale art installations.
30 Hudson Yards - The 101-floor, 1,268-foot building at the corner of Tenth Avenue and 33rd Street. It is currently New York City's third-tallest building. It is designed by Kohn Pedersen Fox and will include an outdoor observation deck on floors 99-100.
35 Hudson Yards - Located at Eleventh Avenue and 33rd Street, the 72-floor mixed-use building opened on March 15, 2019. It houses 137 condominiums, an Equinox brand hotel, medical offices, and retail space.
50 Hudson Yards - Work on the foundation of 50 Hudson Yards, located at Tenth Avenue between 33rd & 34th Streets, began in May 2018. When finished, the 58-floor building will be the fourth largest office tower in New York City in terms of available square feet, with 2.9 million available to lease.
55 Hudson Yards - A 51-story, 780-foot-tall commercial tower, located at Eleventh Avenue between 33rd & 34th Streets. Construction started in January of 2015 and the building was topped out in August 2017. Like 50 Hudson Yards, 55 is not located over the west-side rail yard, and was not included in the original master plan for Hudson Yards.
The Shops & Restaurants at Hudson Yards - Phase 1 includes a seven-story mall with 100 shops and 20 restaurants, called The Shops & Restaurants at Hudson Yards. It has 1,000,000 square feet of space, including 750,000 square feet in retail space. The mall opened on March 15, 2019.
Public plaza - This is a 6-acre public square, with 28,000 plants and 225 trees, located on the platform sbove the West Side railyard. The 16-story Vessel structure is located between the buildings in the middle of the square. The public square is a ventilation area for the West Side Yards, as well as a storm water runoff site. Storm water that runs off into the square is reused. Because it's on top of an active rail yard, the public square is located over a 6-foot (1.8 m) deep plenum above a cooling slab with 15 fans blowing 45 miles per hour air and a 60,000-gallon rainwater storage tank. The entire platform is supported by 234 caissons. The plaza opened on March 15, 2019.
Vessel - A permanent art installation and viewing attraction designed by Thomas Heatherwick. Opened on March 15, 2019.
More images of Hudson Yards attractions are below.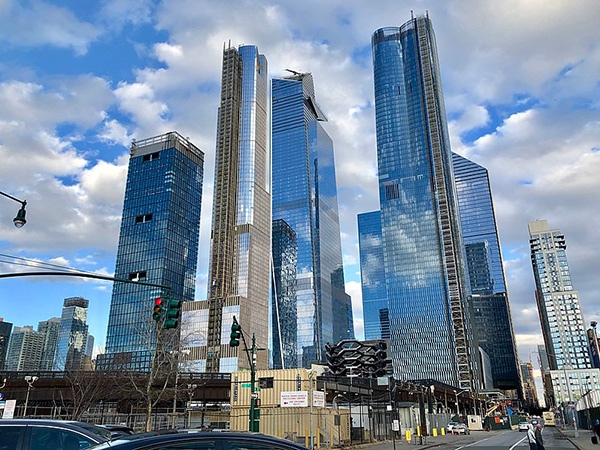 A view of the buildings under construction at Hudson Yards.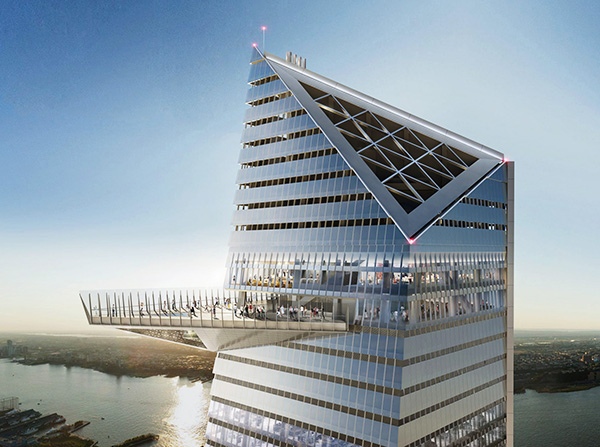 Artist's rendering of The Edge, a viewing platform 1100 feet up in the air at 30 Hudson Yards.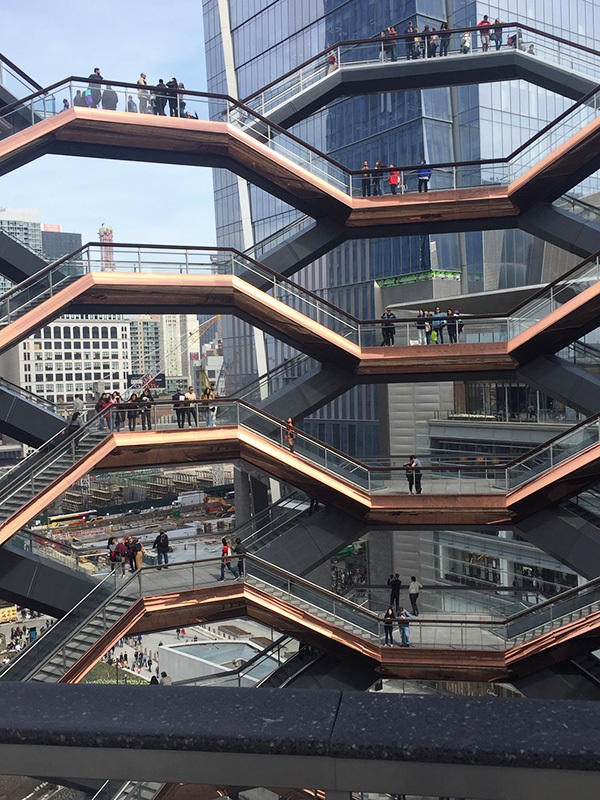 Another view from inside of The Vessel at Hudson Yards.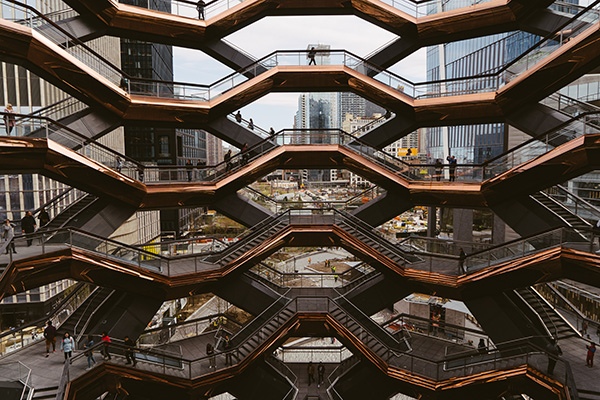 Another interior view of The Vessel from near the top of the structure.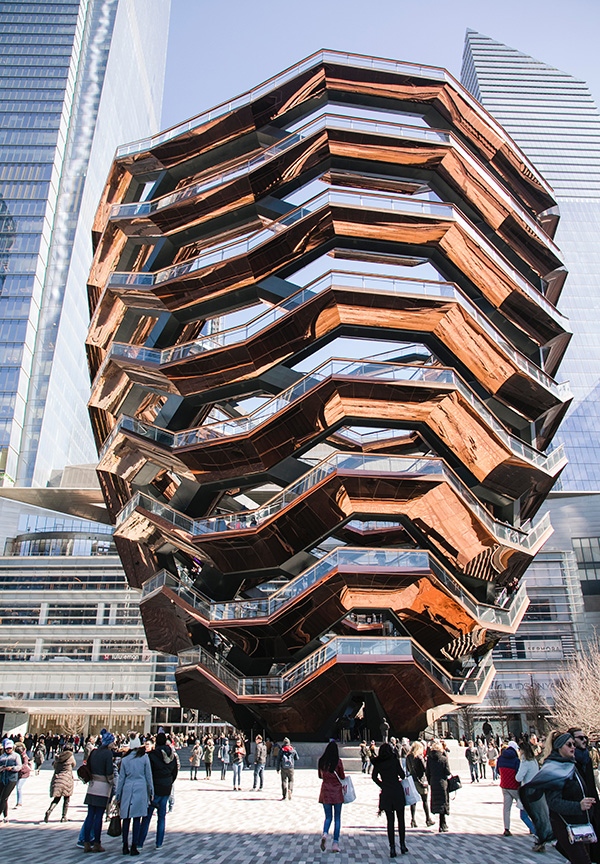 The Vessel as viewed from the Public Square & Gardens at Hudson Yards (March 2019).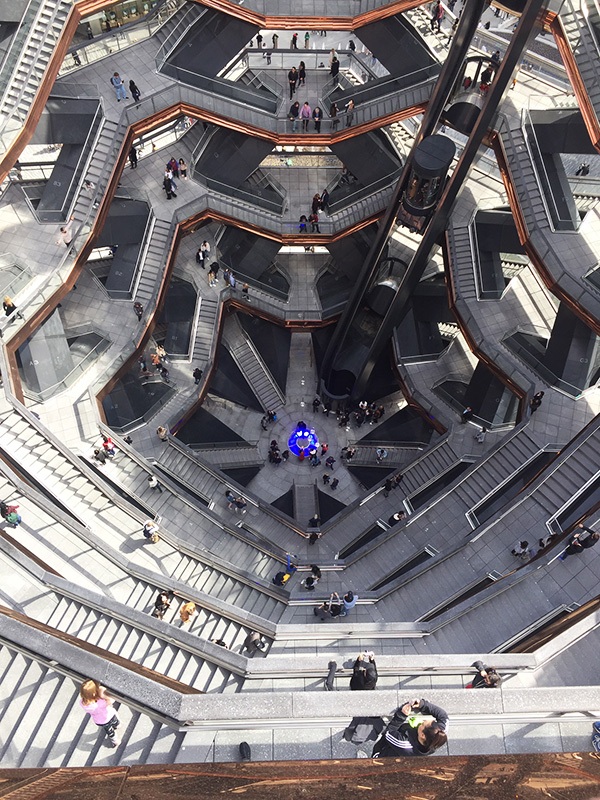 A downward view inside The Vessel, brings to mind some of the surreal and impossible structures depicted in the artwork of the famous famous graphic designer M.C. Escher.